It's super easy to upload CSVs when working with Gmail Mail Merge. Before importing the CSV make sure that your file is setup correctly:
The first row of your CSV should contain the header. For example Email, Firstname, Lastname, etc. Also, note that the cannot be any spaces in the header names.
Please ensure the 1st column contains the email of the recipients, and the first row of this column has to be named Email.
Also please note that you can only send 200 emails at a time. So please be sure your CSV contains no more than 200 recipients.
Once your data is ready:
Click on the Upload a CSV link on the top right side of your Gmail Mail Merge compose window, like below.
You can then insert the fields from your CSV into your email by clicking on the orange icon on the bottom right of your window, like below. Once you select a field it is automatically copied to your clipboard, allowing you to paste it anywhere in your email.
Once you've inserted all of your fields and completed your email, be sure the click on the Preview button to ensure all the fields were matched properly.
Then once you click the Send Merge button, or schedule the merge to be sent later using the Send Later button, the data in your CSV will replace the fields that you inserted and your emails will be sent.
You can then sit back and see who's opening them!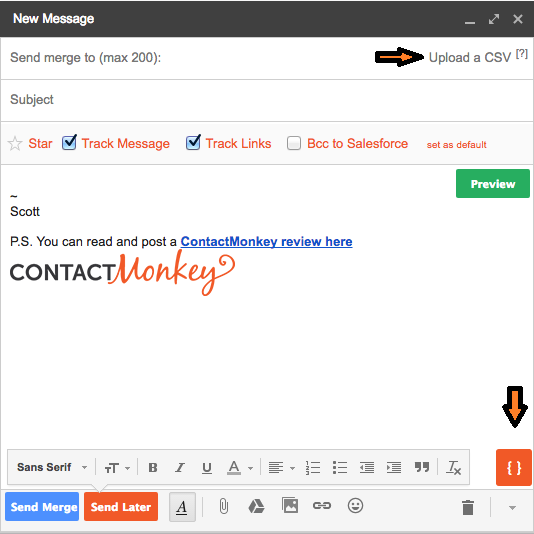 Any questions, simply email support@contactmonkey.com. We're here to help!
The ContactMonkey Support Team