ContactMonkey's Microsoft Teams integration allows you to share an online version of sent emails to Teams channels, making it easy to reach your employees where they are. You can track engagement rates, and prove the value of your internal communications efforts.
Note: The ContactMonkey Microsoft Teams integration started rolling out in phases as of November 2023. If you don't see it yet, please get in touch with your Customer Success Manager or email support@contactmonkey.com.

Getting Started
The Microsoft Teams integration is available on our Plus & Enterprise plan levels. Not sure which plan you're on? Contact your Customer Success Manager or email support@contactmonkey.com.
Before being able to send campaigns to Microsoft Teams, you'll need to have configured your chosen Teams channels. To learn how to do this, check out Integrating ContactMonkey & Microsoft Teams.
To use Microsoft Teams and ContactMonkey, you'll need to integrate each channel to which you may wish to send campaigns.
This could look like:
An "Announcements" channel where you send any emails with important company updates
A "Weekly Newsletter" channel where you send all weekly newsletters, to create a referenceable archive for employees
Permissions
Basic users can only send their own emails to Microsoft Teams. Admins and Managers can send all emails to Microsoft Teams. Learn more about roles and permissions here.
Send A Campaign To Microsoft Teams
In order for a campaign to be sent to Microsoft Teams, it will need to have been sent as an email already.
Note: Only emails that were sent after the Microsoft Teams integration was enabled for your account can be sent to Microsoft Teams.
Once you're ready to send a campaign to a Teams channel, you can do so by following these steps:
Head to Emails in the top navigation.
Select the "Sent" tab.
Click "Actions" next to the email you wish to send to a Microsoft Teams channel.
Click "Share To Microsoft Teams".
You're then prompted to select which channel(s) to send the message to and customize how the message will appear within the channel. All fields are required to be filled out in order to send the campaign to Microsoft Teams.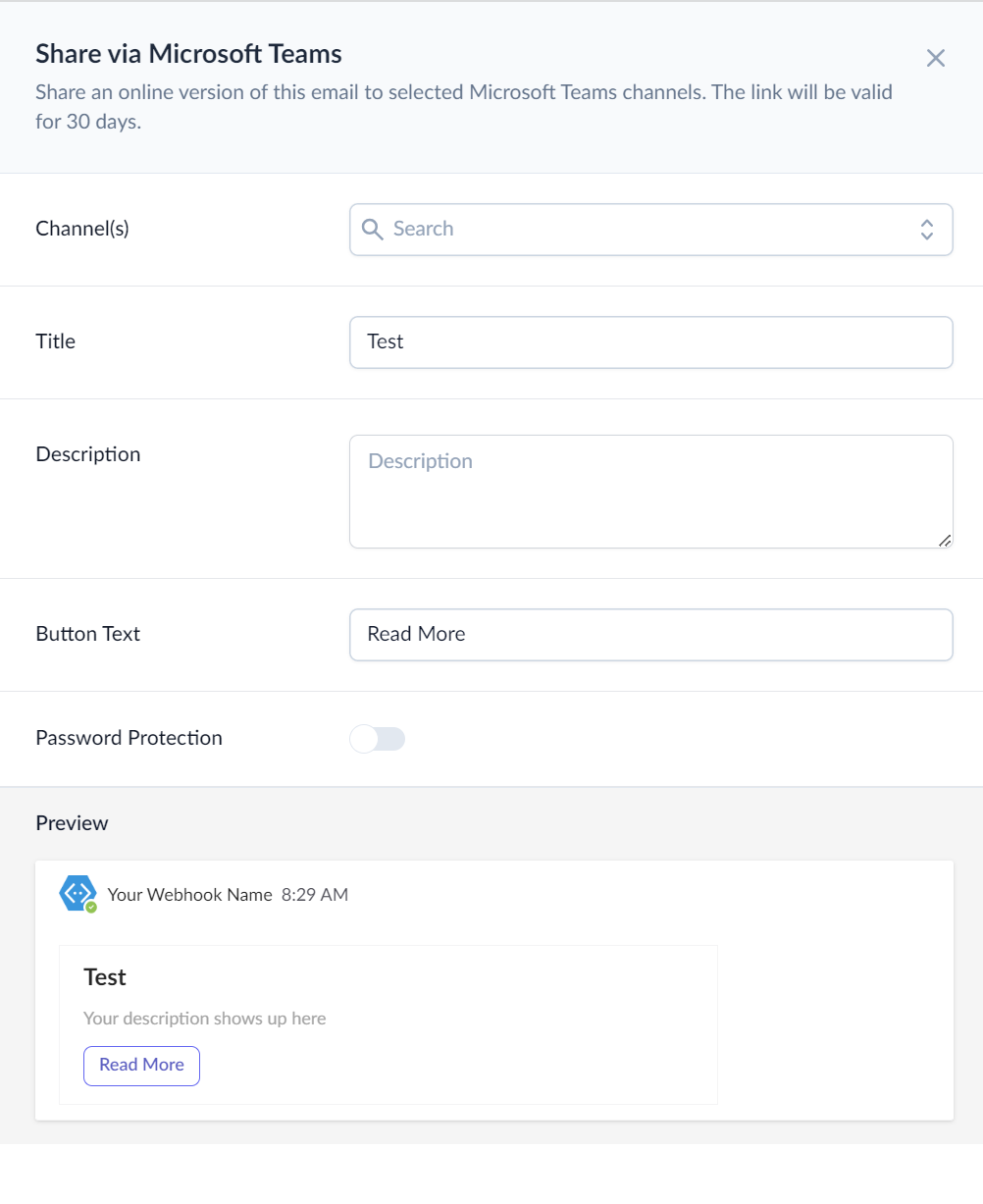 Title - 191 character limit. This will be prefilled with the title of the sent email, but you can customize it. Make sure you remove any merge fields used in the subject line, they will not work when sent to Microsoft Teams.
Description - No character limit.
Button Text - 50 character limit.
Password Protection - An option for enhancing your message security. When toggled on, a randomly generated password will be shared automatically with the campaign message in the Microsoft Teams channel. The online version of the campaign will require the password to be entered before being visible.
Once all of the fields are filled out, select Share via Teams in the bottom right-hand corner.
Your message will then appear as what Microsoft Teams calls an adaptive card within the Teams channel(s).
Important Note: Links sent to Teams channels will expire after 30 days. This reduces the
Report On Teams Engagement Rates
With Microsoft Teams, you can get reporting on:
Which Teams channel(s) a campaign was sent to
Total # of opens in Teams (across all channels the campaign was sent to)
Number of unique opens in Teams (across all channels the campaign was sent to)
These three data points can be used as both columns and filters in Reporting, and are included in the Sent Email export.
The data will be included in the sent emails' overall performance reporting.
To learn more about reporting, check out Reporting On Email Performances.
Best Practices
Create a dedicated channel
Rather than flooding channels that are already busy and noisy, we suggest creating channels that are dedicated purely to internal communications. For example, an "Announcements" channel can be used across many teams and keeps important information in one place.
Consider how your organization already uses Microsoft Teams. Which channels are really busy and likely for your content to get missed in?
Keep it snappy
When it comes to writing your title, description, and button copy, we have some tips to help boost engagement.
Title:
Make your subject lines 6 words tops, or around 41 characters.

Use a consistent format to build recognizability and ensure content can be easily searched and referenced later on. This could look like:

Weekly Newsletter #32: Office closures, promotions to celebrate 🎉

An emoji in your subject line can be either eye-catching or cheesy. Use emojis sparingly and when relevant to the context.
Description:
Text is easiest to scan when 40 or fewer characters wide and three or fewer lines long.
Put the most important point at the beginning of the description, and the second most important point at the end. This optimizes you content for scanning.
Button:
Use action-oriented words like 'learn' 'improve,' and 'win' to facilitate readers to take action.
Buttons work best when they are recognizable, specific and only one or two words long.
Frequently Asked Questions
Question: Why can't I see "Send To Microsoft Teams" in the dropdown of a sent email?
Answer: If "Send To Microsoft Teams Teams" isn't available, it means the email was sent before Teams was enabled for your ContactMonkey account.
Question: Can I send messages to a channel that I am not a member of?
Answer: Yes, as long as the webhook has been configured you can send a message to that channel.
Question: Can I send to a person as a direct message or only to channels?
Answer: Only to channels at this time.