The send later function is a nice tool to use for anyone that would like to preschedule Mail Merges to be sent in the future. To do this in Outlook all you need to do is:
Step 1: Open a new Mail Merge.
Step 2: Write your Mail Merge as you normally would.
Step 3: Click "Send Later" in the top left corner of the screen.

Step 4: Choose the date and time you would like to schedule the send for and click "Schedule".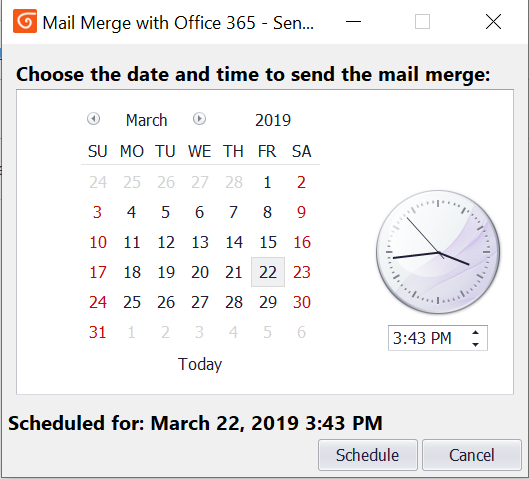 The Merge will now be saved in your "Drafts" folder until it is ready to send.
Reschedule
Before the Merge is sent the user has the ability to reschedule the time they would like sent at. This can be done very easily:
Step 1: Click "Drafts"
Step 2: Double click on the Merge that is scheduled to send.
Step 3: Once you are in the scheduled Merge click "Reschedule" in the top left corner
Step 4: You will now have the option to change the time and date you want to send the Merge and click "Reschedule"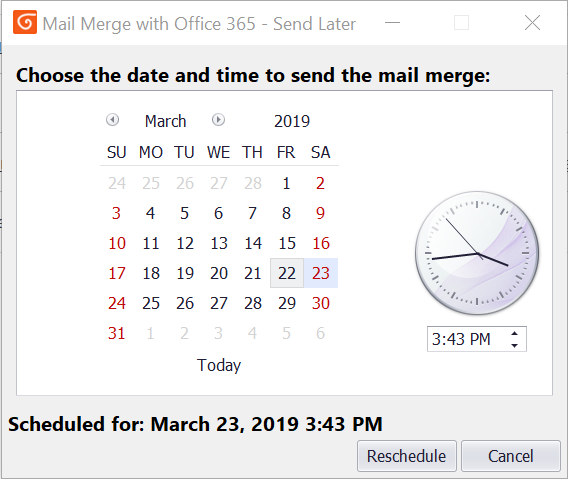 Once you click "Reschedule" the Merge will sit in your draft folder again until it is ready to send.