Before you can enjoy the benefits, You'll first need to Connect your ContactMonkey sidebar with your Outlook account.
Here's how:
Step 1: Click "New" in the top ribbon
Step 2: Click on the ContactMonkey icon in the bottom right of the new email screen that opens on the right. This will open the ContactMonkey sidebar.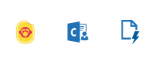 Step 3: Click "here" to connect with outlook

Step 4: Click "Connect with Outlook" and log in to Outlook 

Step 5: Close the ContactMonkey sidebar and re-open it.
Step 6: Upload your CSV or insert your distribution list


Step 6: Preview, then click "Send Merge"
Note: If you are using a CSV your name will be inserted into the "To" field as a place holder. You do not have to remove it or add anything.