We have a great selection of emails available to edit, geared for any and all internal communication needs. However, you may want to create an email from scratch with your own formatting, logos, colour scheme, etc. Luckily, this is quite easy with our email builder! Simply follow these tips, and feel free to contact your Account Manager for assistance.
For further information, e.g. how to insert and edit specific types of content, please refer to the Email Builder section of this Help Center.
In this section:
Accessing the Email Builder
Basic Formatting: Settings
When you create a new template, the first thing to do is to give it a descriptive title that is easy to identify. Then, simply click the edit icon (pencil) next to "Unnamed Template" in the top left-hand corner of the window.
Then, start building your template by going into "Settings."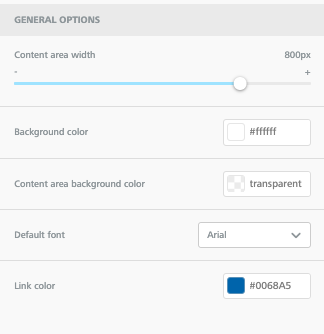 Content area width dictates how much of your email screen is taken up by your newsletter when employees open it.
We recommend setting this to around 800px, which will leave some background / white space in your email whilst still being easy to read.leaving some background / white space in your email while
Background colour refers to the email background colour, whereas content area background colour refers to the template background colour.
| | |
| --- | --- |
| Example A: White background colour, blue content area background colour | Example B: Blue background colour, white content area background colour |
Generally, we recommend setting the background colour to white and the content area background colour to transparent.
Default font can be set according to your company style guide (if applicable). Note that you can change the font when you insert or edit text.
Link colour can be customized so that any links inserted in the template show up as a colour of your choosing, as opposed to the default blue.
After you have configured your settings, you have the option of adding Default Colors. The button to do this can be found in the ribbon at the top of the web page.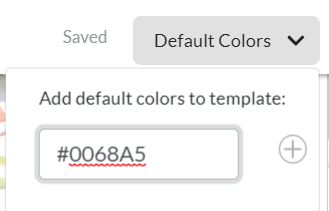 Simply input a hex code from your brand/style guide into the drop-down box. This will save the colour to show up as a custom option when editing content.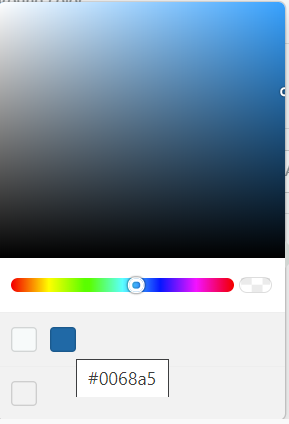 Not sure what hex codes to use? Upload your company logo to https://html-color-codes.info/colors-from-image/ to find out your company colours.
Adding Rows
Pro Tip: You must always drag an empty row into your template before you add content.

This is one of the most important things to remember when designing a template. It helps ensure that your content does not overlap and that the coding between our template builder and your email remains consistent. We suggest spreading your content out over as many rows as possible. This will keep your newsletter organized and easy to read.
You can choose rows that stretch across the whole page or break them into individual sections. If certain cells or entire rows are left blank, this will show up as background/white space in your email.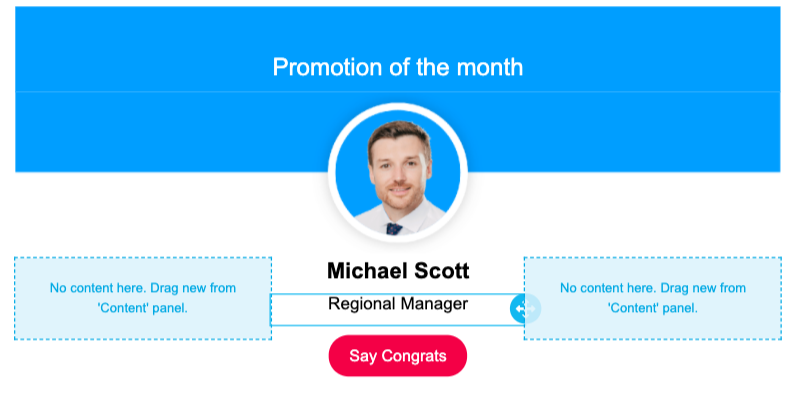 To move rows around, hover your cursor over the background area on the left side of the row content panel. Then select the moving icon (the plus sign with arrows on all points) to drag the row up or down.

Adding Content
Once you have inserted a few rows, you can drag and drop content into the template.

Click on the content to edit it and for content-specific properties to show up in the menu on the right.
Text
We recommend:
setting body text to at least 14px
setting line height to the furthest right option (double spacing)
Images
After you drag an image in as content, click "Browse," and you will see the option to upload an image, use an image you have uploaded in the past, or search for free photos.
Free photos are images that have Creative Commons Zero licenses, meaning the image owner/creator has waived all copyrights and made their images public domain. Simply search for a keyword related to images you are interested in, and import the photo of your choice.