Some users using the ContactMonkey web add-in for Office 365 may experience an error when loading ContactMonkey in the locally installed Outlook software.
Follow all the steps listed when you see the "ADD-IN ERROR" below while trying to load the sidebar until it can load.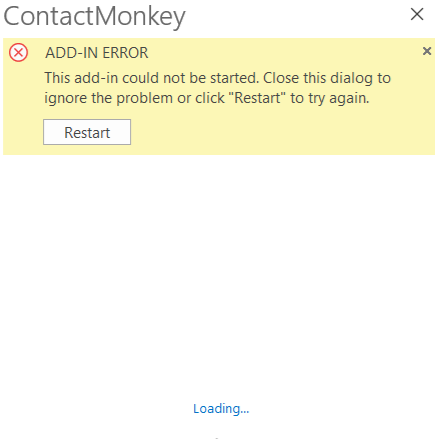 A number of things can cause this, and here are some troubleshooting solutions you can try:
First, check for and download any pending updates on your laptop/computer.
Check for and download any pending updates on your Outlook software, you may need to reach out to your administrator if required.
Restarting your machine.
This error is only caused by your locally installed Outlook app if you do not experience this when using the add-in online at www.outlook.com. (Office 365 only)
If you try all of the above and it still will not load, please reach out to support@contactmonkey.com.