Read on to get an overview of how to send tracked emails with Outlook Desktop.
In this section:
Step One: Access Mail Merge on Outlook
Click on the Mail Merge icon in your Outlook ribbon, then click on "Mail Merge for Desktop"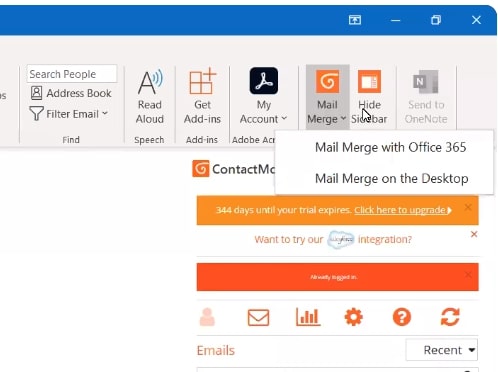 Step Two: New Email Preferences
From there, a new email window should open up. When sending emails with Overall Tracking, make sure all options are toggled on in the left hand side:

Looking to send Individually?
If you want to send emails with more personalization (e.g. including first name or last name) unclick the "Track Overall". From there, the left-hand side bar should be clickable, and you can click and drag the fields you would like to populate with information from your .CSV
Step Three: Access Template
Go to your browser (we always suggest Google Chrome for best functionality) and go to your finished template . In the right hand corner, click the arrow and select "Export to HTML". Save the file to your computer.
Step Four: Import HTML into your Email
Once the HTML is ready, click on the "Import HTML" button on the left side of your ribbon.

Once you import your HTML, you should see this pop up: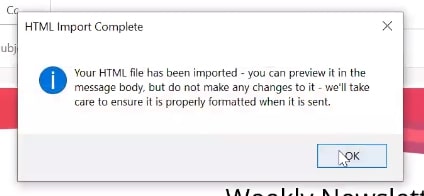 Your template is in!
Step Five: Insert Recipients and Subject
From here, you can upload your .CSV or send to an existing Outlook list. You can also input your subject. Once you are happy with the final email, click send.
<<<Previous: Template Builder Next: Send Email Using Outlook OWA>>>