With ContactMonkey's Email builder, you have the option of using both custom and public GIFs to spice up your email.
In this section:
Public GIFs with GIPHY
Format your template and row, then drag in the GIF content block from the right sidebar.
Click 'Search for gifs with GIPHY'

The following screen will bring you to the options available to you with GIPHY, use the search bar to look for GIFs to suit your theme.
Click on the one you would like to select and it will populate in your Email. You are ready to go!

Using Custom GIFs
Ensure the GIF you will be using is saved as a GIF file or a .gif image.
Format your Email and row how you like, then drag in an Image block where you would like the GIF to be positioned.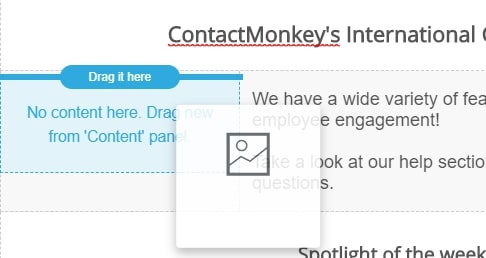 Upload your custom GIF into the Image block and you should see it animate within your email.
If you do not see your GIF start to animate, please reference our article on Uploading Custom GIFs.
Limitations
GIF animation within the email is only supported for Office 365 and Gmail readers.
Readers using Outlook 2007, Outlook 2010, Outlook 2013, Outlook 2016 and Outlook 2019 will have to display the email in a browser for the GIF to animate. However, readers using the Outlook mobile app will see the animation.
For Office 365 readers, t

he GIF-animation will not loop indefinitely but will only loop 3 times. After 3 animation loops, the animation will stop and a Play button will show on the image. Pressing this Play button will loop the animation another 3 times.