Heres a few tips to ensure you successfully upload your .CSV to Mail Merge.
In this section:
Step Two: Upload .CSV to ContactMonkey sidebar
Step One: .CSV Best Practices
First column is entitled "Email", and has the recipient's email addresses
Emails formatted correctly: all have domains, no spaces before/after
Column Names: Must be one word, no spaces ( e.g. "company name" will not be accepted, but "company" or "companyname" will)
Custom Column Names must be all lower case letters
NO duplicate email addresses
remove columns not being used as a merge field
File saved as CSV UTF-8 (Comma delimited) (*.csv)
Upload CSV Limit
ContactMonkey has a limit of up to 10,000 recipients for any one .CSV file.
Step Two: Upload .CSV to ContactMonkey Sidebar
Use ContactMonkey's CSV validator to ensure it is formatted correctly. To do so upload your CSV to the ContactMonkey sidebar.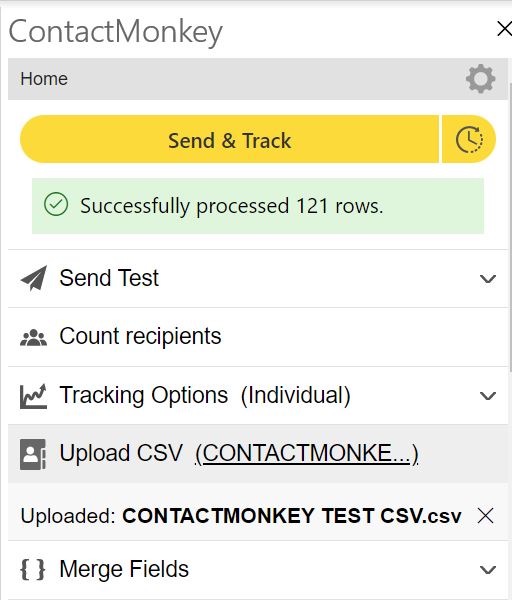 Feel free to download our sample CSV file as an example below.