Buttons are a super-easy way to link to external URLs, intranets, attachments, and CTAs.
To use a button, simply drag it in from the Content sidebar to the designated spot within the email.
In this section:
Link URLs:
Opening a web page is the default setting for a button, and the content properties area allows you to simply paste a URL to be linked with the button.
These links can be external links to press releases or website articles, as well as links back to your intranet.
Any link embedded within a button will be tracked and displayed in the Best Performing Links section in your analytics report.

Link Files:
You can change the behavior of the button to open or link a file, rather than a URL.
By selecting the 'Link file' button under the URL address bar, you will be brought to your File Manager where you can link an existing file, or upload a new one from your device.
Clicks to download this file will be tracked similar to any other URL link.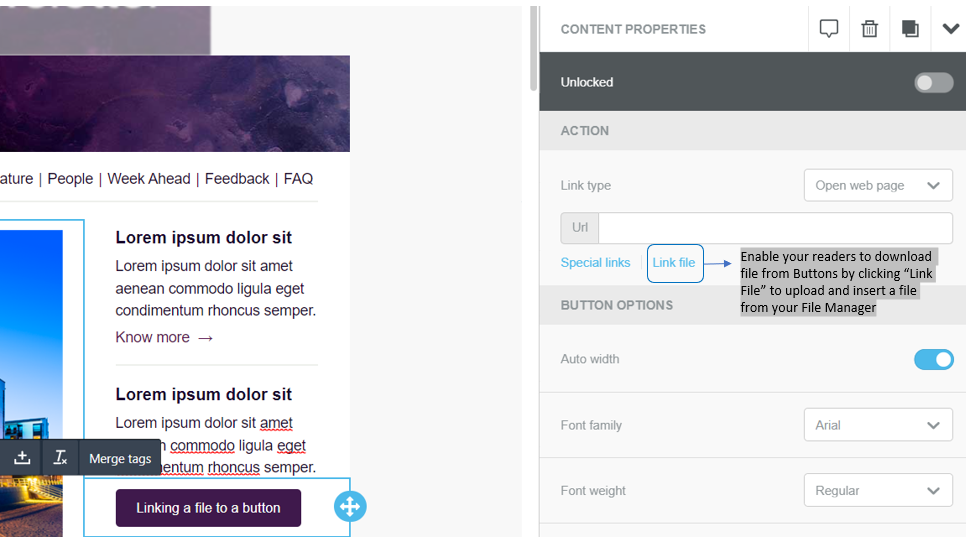 Send Email:
Your button can also be used as a CTA to send an email.
By changing the 'Link type' to 'Send email', a recipient field, subject line and body can be pre-populated for when a reader clicks to send an email, as seen below.