To get started with an email, or to edit an existing one, select "Emails" at the top of your dashboard.

Email Library
This is the library of emails that have been recently created or edited. These are emails that you can insert into your new message within Outlook or Gmail.
Clicking into any of the emails within the library tab will bring you the template builder, where you can edit and make changes. Check out this section of our help centre for more information!
Clicking on "Actions" next to the email will show additional options.

Edit

Opens up your email in the builder for you to edit.

Convert to Template

Allows you to save the email to your "My Templates" page.

Replicate

Allows you to replicate the email within the same team.

Delete

Allows you to delete the email. Please note that once an email is deleted, it cannot be recovered!
My Templates
Here you can access templates that are owned by you. Clicking into a template will allow you to edit it, which will not add it to the email library. Only you are able to edit the templates you own, while your team members can use your templates to build new emails. All of your templates will be visible by your team when creating a new email in the "Team Templates" tab.
Saved Rows
Learn more about Saved Rows here.
Create New Email
Clicking on this button leads to your team's templates and sample templates.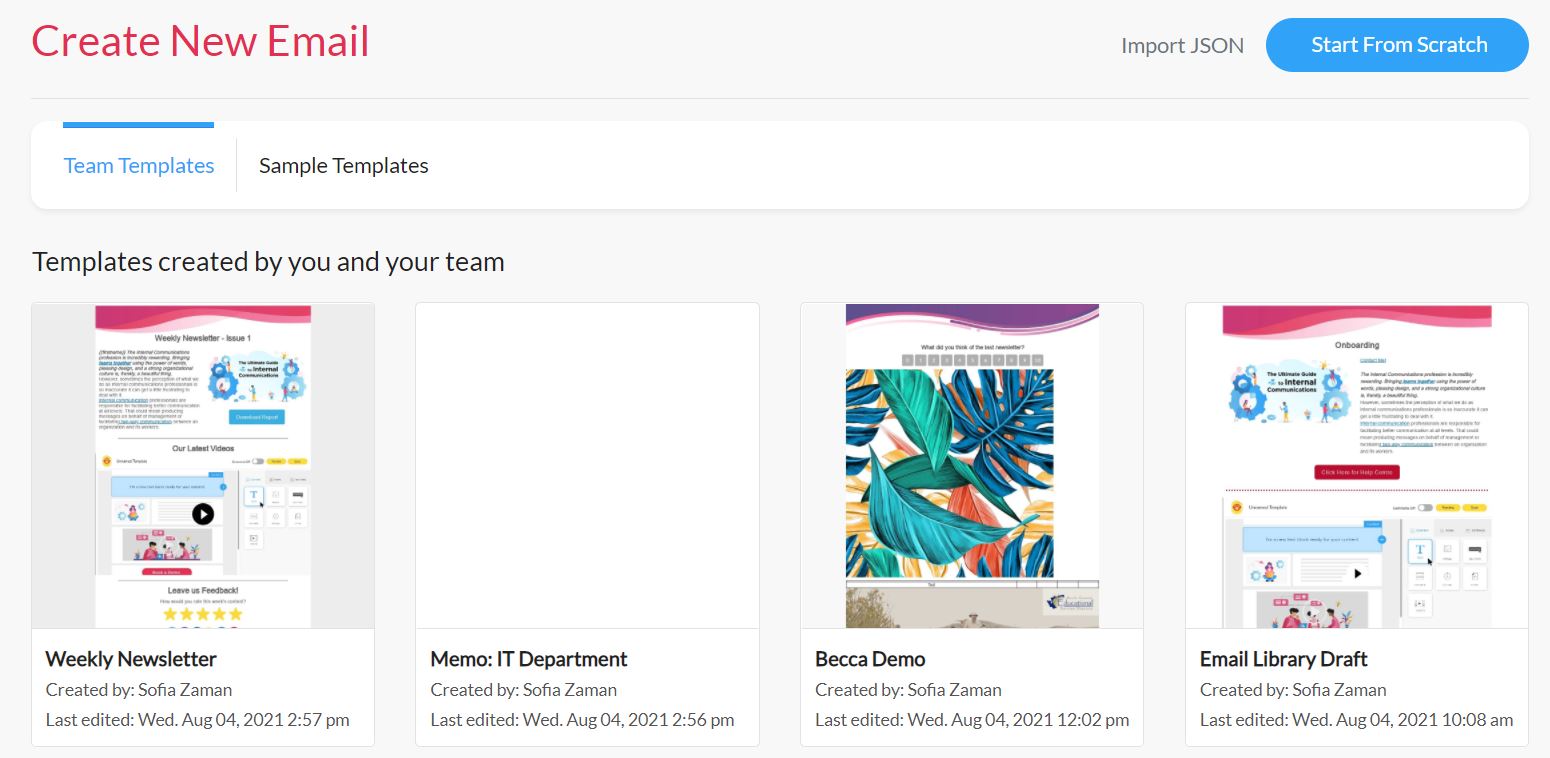 Team Templates
This will show all of the templates created by you and the members of your team. Clicking "Get Started" on a template will launch the email builder.
When selecting a team template, you will be creating a new email that does not change the template. If you wish to edit a template you own, this can be done from the "My Templates" tab.
Sample Templates

Free with your subscription with us! These templates are for your usage. Select a template and click "Get Started" to begin creating your branded communications.

Import JSON

This is where you can import previous ContactMonkey or other designed emails via a

JSON file.

Start from Scratch

Allows you to create an email that does not use a team or sample template.


Learn more below!